Make sure to check the car out completely before taking delivery. Try to get as many keys as possible

The search was over March 23, 2013. I found an 06  A8L- 1 owner with 73k miles – Premium and Sport packages – Air cooled and massage options. I wished the car had ACC and rear electronic lumbar supports, I didn't really care for , the kids always play with the buttons.


*** I'm sure no one wants cars had been in accidents even little fender benders – A8s have parking sensors mounted front and rear bumpers – If these have been broken and replaced incorrectly – intermittent problems will exist and very hard and frustrated to repair ***

*** One important note is only buy A8 with original equipments – non modification what so ever – people may lower the car (affected air suspension) – after market car alarms – Audio – These are walking wounded cars and it will cost tons of money to get it back to original condition ***

Let me summarize my search and decision to buy this car.

All A8 D3 are equipped with Air adaptive suspension, which means each corner has a air shock (just like low riders many years ago) and air pumps controlled electronically. Make sure the suspension is fully functional at the time of taking delivery. I believe each air shock is about $1200-1900 new and air pump is not cheap. Go to MMI, click CAR button, the air suspension will come up, select lift to see if the car raises high, then select comfort (normal) to see if it lowers. While test driving the car, we can also select different adaptive positions to see if the rides changes. Bring a tape to measure the car on the level at 4 wheels from center of the wheel to the lip of the fender, make sure they're not too different in heights. My sport suspension were Front : 15.75″ & 16″, Rear: 15″ & 15″.


Again 04-10 are D3 series – 04-05 engines is marked different from BGK 2006 for some reasons. The front of 04-05 is different from 06. 06's get facelift and a few other options like Parktronic Graphical Display on the MMI (No Camera).

07-10 A8s have new FSI Engines with timing chains instead of timing belt like 04-06. So, what happens when something is wrong with the chains system? because the chains are in the back of the engine. The chains system has no maintenance should be replaced at 185k  miles interval which is nice, but if I buy a high mileage 100k + miles and drive a lot, the cost will be worst than replacing a timing belt when the time comes.

07-10 has back up camera which 04-06 don't offer, which means I have to retrofit one if I want one like the Q7.

The 06 is approximately $5-6k less than 07 due to the new engine and back up camera and soft headrest restrain system. Other than that, everything is the same, to me.

So, what options do I have in my " and missed? Believe it or not there are many 06's out there that are base cars with no options on them. Watch out.

Premium Package

Advance keys – start/stop without key

Soft close doors – auto fully close when doors engaged not fully.

Front and Rear Acoustic parking system with Graphic display in MMI.

Power trunk open/close.

Heated front and rear seats, adjustable in 6 steps (Front heated seats standard in Canada)

Electric Rear Sunshade (manual side sunshades already standard on A8 L 4.2).

Electric Rear and Manual Side Sunshades.

SPORT PACKAGE

19″ 5 arm quattro GmbH cast alloy wheels

255/40R 19 all-season.


3 spoke leather wrapped multi function sport steering wheel with shift paddles.

Adaptive air suspension- Sport.

Air cooled and Massage Seats (both front) are $1500 options which is really nice on long trip (driving back from LA to SF).

What I wish my car has? Only Adaptive Cruise Control (ACC) which I may not use often, but it would be nice to have. Other than that, I had found a great car for the price.
It's time for us to get back to an A8 – I do really miss the ride, the performance of the A8. 9 years ago, and we had . We enjoyed every mile of the car. To us, A8 was the least expensive luxury car to own – used – then. Now, I'm not so sure since the resale values of Audi went up.
July 2004, we bought our 1998 (6 years old) A8 with 107k miles for $11500. The sticker price of the car new was $70k. We spent $500. for suspension parts, water pump, MAF and brakes $600. We drove for 7 years or 68k miles. To me cost of ownership for a fully loaded car, wonderful and reliable $12600.00/68000 = $.19/mile.
We call our A8, the disposable $70k car, we drove and gave it away for $1000.
Now, cost more to buy, I've been looking for all the options and the right year – D3 starts from 2004 and ends at 2010.
The size of the A8 is almost the same as the Q7 ~200 inches while the A8L is 204.9 inches, it's a little tight fit in the 2-car garage with both widths are ~79-80 inches wide. If we get one, some garage reorganization must be done.
I was amazed at the resale values of these A8s, 2006 (7 years old) with 112k miles is asking for $16k-$17k. I like Audis better when it wasn't popular. Anyhow, if I want one, I have to pay up, the only thing is with what options.
2004-2006 Engine still have timing belt which must be changed @ 70-100k miles or so. , direct injection, timing chains and people were concerned about the carbon deposit on valves. The engine is more efficient: more power and better gas mileage.
Since we have a taste of back up camera on our Q7, the wife wants the option on the used A8, it only exists from 2006-2007-2010.
07 and on with back up camera.
06 A8 without camera – only MMI graphical display.
These days, Audi is famous for their LED head lights and rear lights – LED rear lights only start from 2008-on – Yes, we can retrofit the LED rear lights for older models, but it costs $1800 a set.
One good thing about buying used car is to be patient and wait for the right one to come along and be agilent when we see one. So what do I want for my A8?
Back-up camera – must be 06 07 or newer.
Timing belt hassle or NONE: 07 FSI engine. If the price between the comparable 06 and 07 are different $4000, I would get the 06, but if it's less than that, I'll get the 07 because the cost of timing belt and camera retrofit should be around $2500-3000 but the 07 has nicer head rests.
Front and rear heated seats – since we go to the Sierras sometimes and it's cold in the Bay too.
4zone option with controls for the rear passengers.
Just heated seats for the rear passengers.
Air conditioning and Massage seats – my wife doesn't care much for them.
Rear bench seat electronic lumbar support.
Short wheel base for easy parking in the garage?
Adaptive Cruise Control: this is a nice option, keep a distance between the front car and our car, slows down or resume to set speed. The sensor is in the middle center lower grill above the license plate.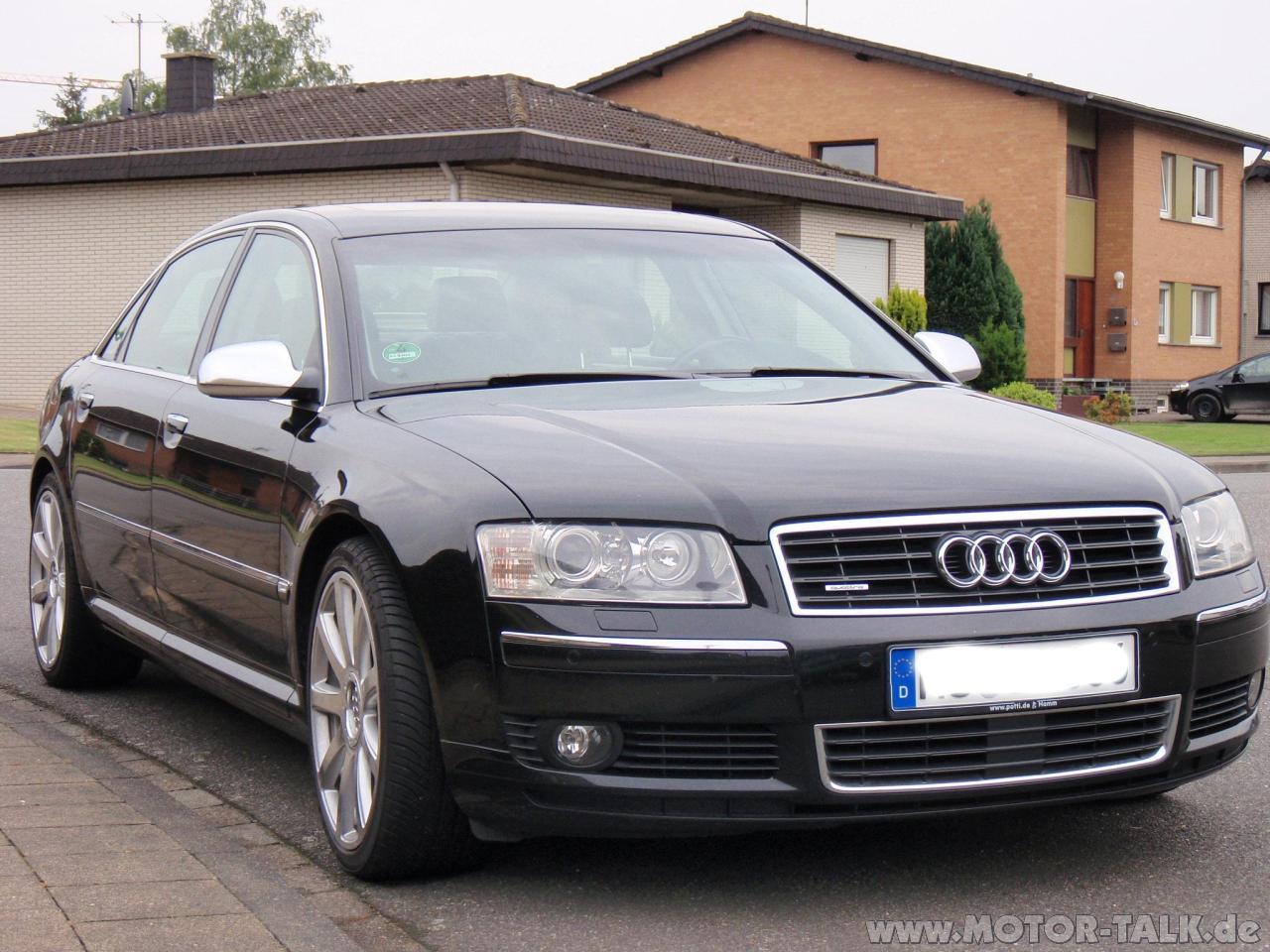 Sport package doesn't come with full size spare – I don't know why.
Do you really need to pay for Pre-Purchase Inspections from the Audi Shops or Dealers?
I rather to find an honest seller who would tell me what's wrong with the car or things that couldn't be fixed while he/she's owning it. Yes, those owners do exist.
You can also inspect the car yourself, it's much better. Here are some examples of PPI that don't do justice.
***Don't buy any car that the owner'd spent lot of money just before he/she put it for sale. The problems may not be fixed and the logic is you shouldn't spend money to get rid of it. Don't be impressed with how much money the owner dumped into the car, if the car is good, not much money should be spent to fix it.***